Full article found on MediaPost
There's a new normal in healthcare marketing and healthcare providers need to take heed.
The signs are everywhere, as the list of established, trusted, and ubiquitous brands rocking the healthcare marketplace grows daily. In the past few months alone, CVS announced its acquisition of healthcare innovator Signify Health while Amazon bought the primary care organization, One Medical. At the same time, Walmart acquired multi-specialty telehealth provider MeMD.
And those are just the moves coming from the major players. Incubators like Matter, and startups such as Viome, Revieve, and FemTec Health are all poised to reinvent how they engage with—and care for—patients by introducing new options for consumers.
What does it mean? Simple. A tsunami of industry disruptors is about to change the way consumers address their healthcare needs forever. And that means it's time for traditional healthcare providers to start marketing as if they were consumer brands struggling to achieve relevance, market share, customer acquisition, and loyalty.
It's true that several providers have put the topic of "consumerism" on the front burner over the past years and have invested in treating their patients like the empowered customers they are.  However, few have put the right level of investment or energy behind differentiating their brand, making it relevant, and protecting it from competitive threats. The time is now for healthcare marketers to start focusing on best practices that will take their existing brands from good to great. 
Here are 5 tips to get started:
#1. Listen With Intention
Customer needs and expectations continue to change rapidly amidst the post-pandemic landscape, so it's critical not to act on assumptions. Providers must have tools in place to get to know their audience on a much deeper level, not just by gathering data on their healthcare needs. They need to learn who they are as people. Some marketers are wisely using sophisticated social media monitoring techniques as well as creating panels of consumers to tap for learnings, validation of strategies, and testing concepts. Building trust comes from truly understanding what customers really feel, need, and want and being able to translate those insights into meaningful connections, interactions, and experiences.
#2. Enhance Patient Experience
Customer experience is the foundation of any strong brand, and it's no different in healthcare. Clinical excellence and personalized care are basic expectations, but customers also want the things they have come to expect from their interactions with non-healthcare brands. These include a frictionless experience for access and scheduling, price transparency, a feedback loop and clear, consistent communication. While many healthcare marketers have invested in modern CRMs to enable these experiences, few have created consistent messages to reinforce brand value throughout every aspect of the customer journey.
#3. Reconsider Your Brand Positioning
Given the changing demands of consumers as well as major shifts in the landscape of healthcare options and entry points, it's time to take a fresh look at your brand's positioning. Be sure your brand is clearly defined, truly differentiated from the competitors, and connects to an authentic truth that is meaningful to your audiences. Once you create alignment on a newly defined market position, it can serve as the guidepost for all your marketing and brand-building efforts.
#4. Leverage Trust
Established healthcare providers with long histories of building meaningful, trusted relationships in their communities have a huge advantage over startups and should leverage it to their benefit. Use this strength as a pillar of your brand and marketing campaigns. Continue to invest in building trust in your brand by consistently delivering on your brand promise throughout every interaction, continue to be the source of accurate healthcare information in the community, lead with transparency, solicit feedback and respond with open, clear communication.
#5. Use Creativity To Connect Emotionally
Healthcare is a category with far more opportunities for marketing creativity than other consumer-facing industries, yet so many healthcare marketers miss the opportunity to connect emotionally with their audience. A provider organization is a goldmine of stories built around authentic, human connection, real patient experiences, extraordinary innovations and outcomes, community impact, and legitimate claims of transforming lives. Yet much of the branding work is limited to category cliches of top doctors, quality care, clinical data claims, and meaningless accolades. Take the opportunity to tell your brand story in a way that connects people to you with their hearts, not just their minds.
Building a strong brand is more vital than ever to healthcare organizations. A well-established brand can increase your reputation, build trust, and enhance loyalty among patients, employees, community leaders and other key stakeholders. Beyond these longer-term impacts, a smart brand also can bolster immediate goals that are top-of-mind for most healthcare marketers such as increasing conversions, appointments, and market share.
Full article in Capitol Communicator | Oct 24, 2022
RP3 has formed an Advisory Board to help the agency address new industry challenges and strengthen its product offerings, particularly in the healthcare sector. The panel consists of three healthcare marketing experts from the consulting and market research industries. They are: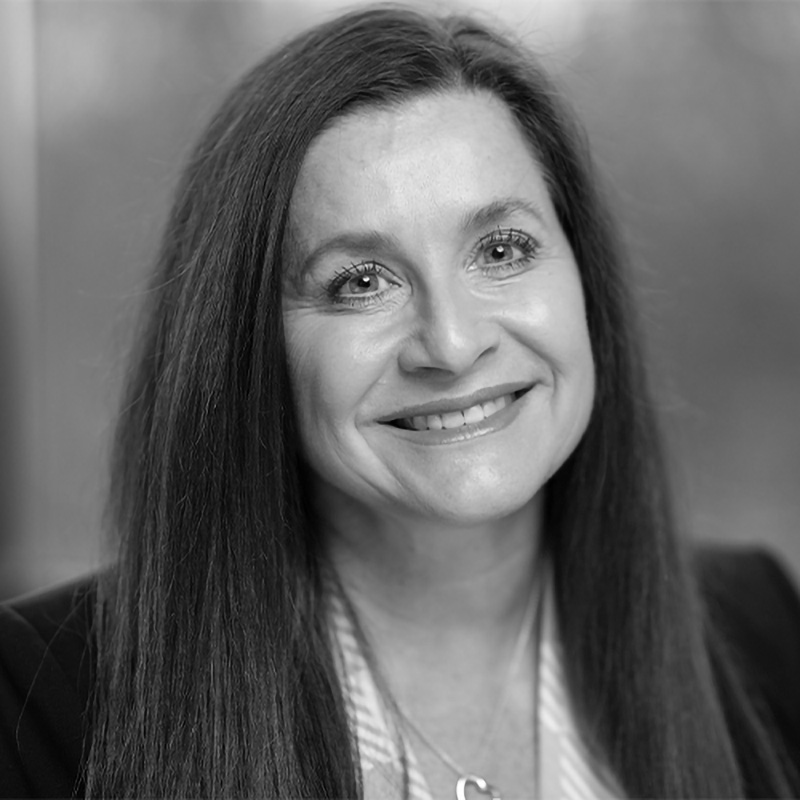 Lynn Hopkins Cantwell
Cantwell is a consultant with more than 35 years in healthcare marketing and communications, including leadership roles in health systems, equity-backed medical practices, associations, and managed care companies. She is a knowledgeable, respected healthcare subject matter expert on strategy, leadership, staff extension, and complex projects. Her expertise includes healthcare branding, writing, public affairs, media relations, and executive communications. She studied exercise science and business at Salisbury University.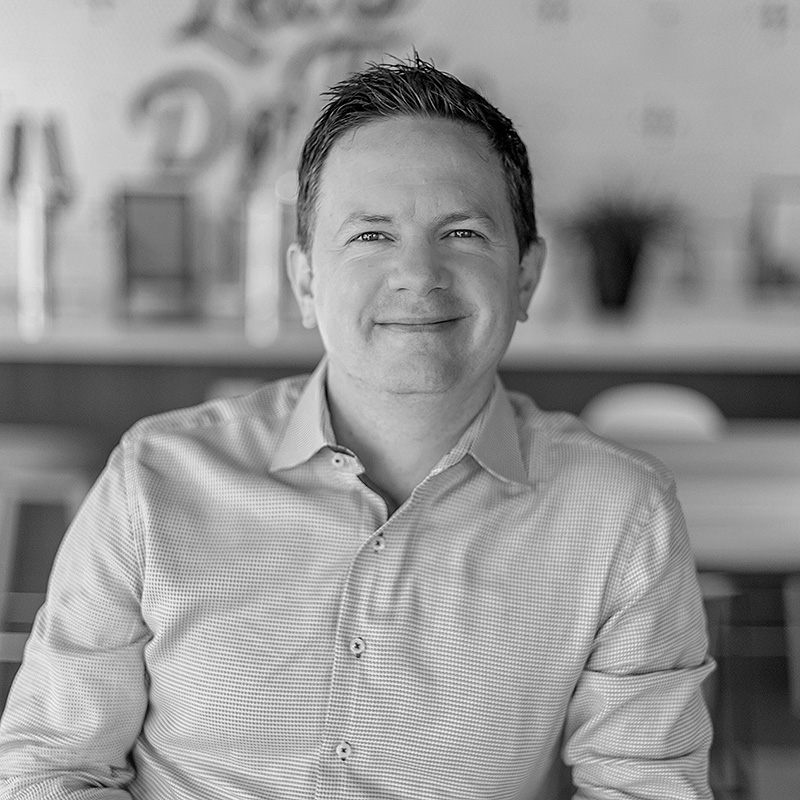 Dean Browell
Browell is Chief Behavior Officer at Feedback where he oversees the company's research as resident PhD with a passion for how generations interact online. His work can be seen across industries including tourism, automotive, retail, healthcare, and education. He is a Board Member of the Society for Healthcare Strategy & Market Development (SHSMD), The Poe Museum, and the University of Richmond's Institute on Philanthropy. He teaches Social Research and Digital Ethnography at Virginia Commonwealth University's School of Business.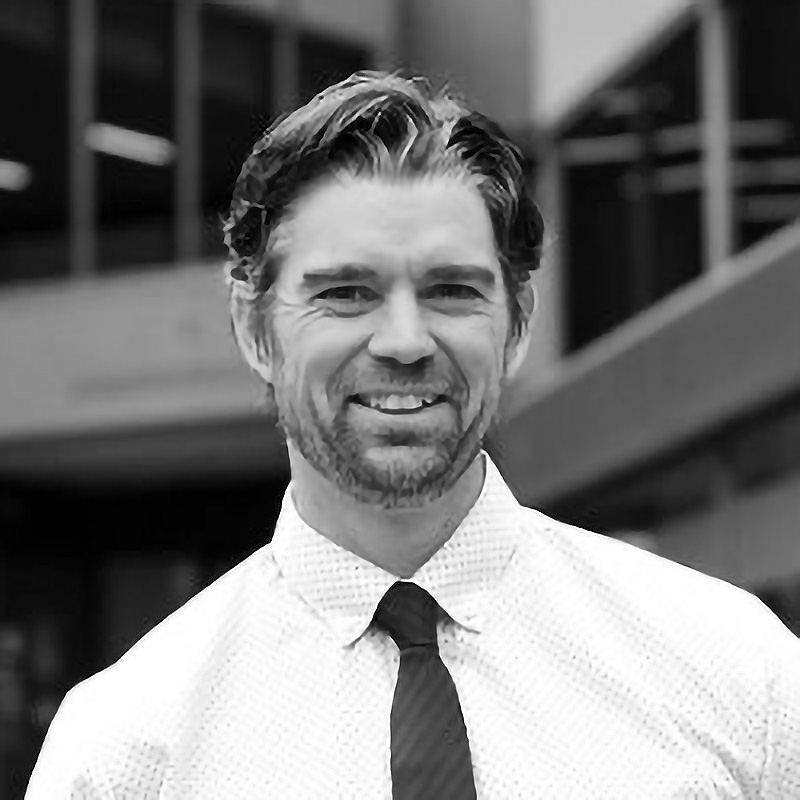 Patrick Madden
As President and Principal Researcher at Market Decisions Research, Madden focuses on exacting and innovative research methods, accurate high-quality data, and "research for good" projects that help improve societal well-being and health. He excels at distilling large quantities of data into clear and actionable recommendations to support educational, program and policy development. At MDR, Madden serves as principal investigator on a wide range of research projects for nonprofits, government agencies, and healthcare organizations. His work focuses on overall health and social well-being and improving health equity for underserved populations.
"This move is the result of our research that revealed a tsunami of industry disruptors who are changing the way consumers address their healthcare needs," said RP3 CEO/Founder Beth Johnson.
"We believe that traditional healthcare providers need to start marketing as if they were consumer brands struggling to achieve relevance, market share, customer acquisition, and loyalty. Our advisory panel will offer insights and advice on how to achieve that goal, as well as help us provide more robust research and marketing services to healthcare clients as the industry undergoes massive change and innovation."

- Beth Johnson
The new advisory panel will initially convene every two weeks with senior RP3 managers and leverage their expertise to help the agency's clients and prospects navigate the fast-changing, post-COVID world of personalized and consumer-directed health care.
RP3, a Capitol Communicator sponsor, is a full-service marketing and advertising agency that is repositioning its mission to include a revitalized focus on retaining and acquiring new clients in the healthcare sector.
A look inside the mind of our Head of Design
Head of Design Noah Mooney leads our talented team of graphic artists, finding creative solutions and elevating the visual identities of our clients and our agency with eye-catching and impactful design.
Since he joined RP3 in 2019, Noah's delivered outstanding work for clients including, Children's National, Koalafi, Hilton, EagleBank, Norfolk Southern, University of Maryland, Vision Council, Long & Foster, and more.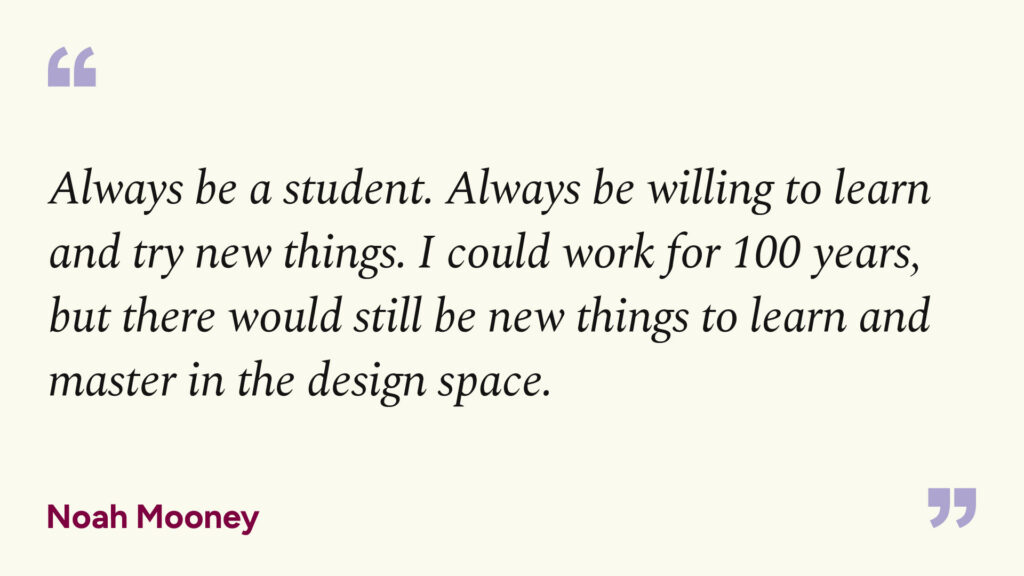 Noah embodies RP3's core belief in seeking the good, and we couldn't be more thrilled to count him among our team of passionate innovators. In his decade-long career and lifelong pursuit as an artist and social advocate, Noah has demonstrated a consistent and ongoing commitment to his craft and to helping those around him achieve their goals and influence positive change in the community.
I took an opportunity to chat with Noah and see the world through the eyes of a true visionary. In this edition of RP3OPLE, we get some words of artistic wisdom and discuss leadership, inspiration, and the future of design.
RP3OPLE TALK:
E: Hi Noah! Tell us how it all began — What got you into design? When did you first discover your passion for visual storytelling?
Noah: I've always been interested in creating things. When I was a kid, my friend and I started a comic book company out of my shed (Shedhaus Comics) and sold comics to the neighborhood kids for a quarter apiece. We wrote and illustrated them and produced black and white copies using the printer at the local library—this desire to create continued through high school, where I took an intro to design course.
E: Tell us about what you first started designing in your initiation into a formal study.
Noah: Oh, well, we designed books, posters, and logos in class, which I discovered I had a knack for. It allowed me to fuse the analytical side of my brain with the problem-solving, creative side. Ultimately, I decided to pursue design as a major in college, and every class, project, and internship I embarked on reinforced my love for design.
E: What about your first foray into the world of professional design?
Noah: I had the opportunity of working at Wolverine Worldwide as a summer intern on the Merrell shoe brand. That internship was the most practical work experience I had as a student — I worked on real projects, and my Art Director, Mike Gannon, was an excellent mentor and coach.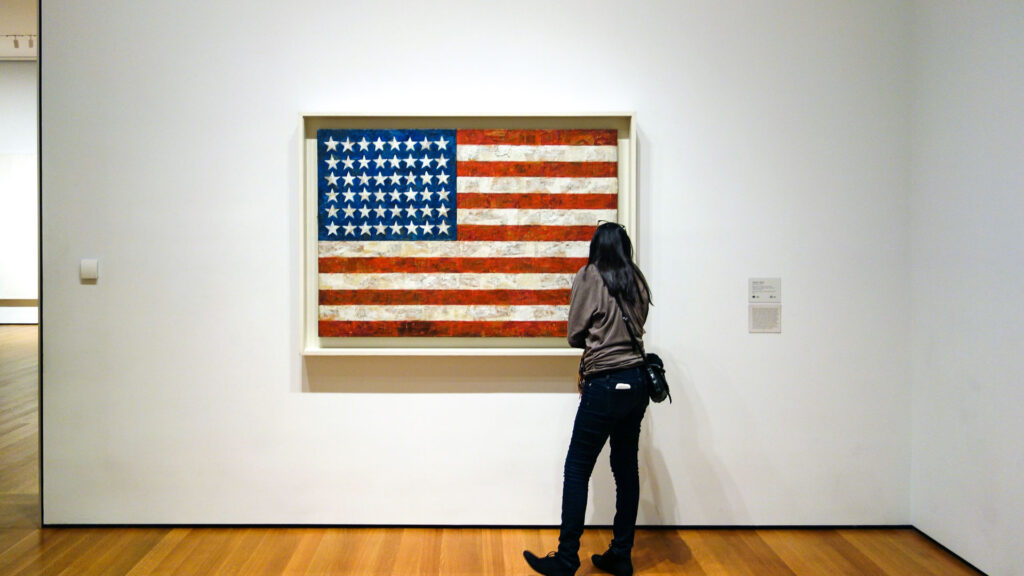 E: As an artist, we all have various sources of inspiration and motivation that constantly evolve and grow — who are some of the artists that have inspired you throughout your career?
Noah: Last February, my wife and I went to the Whitney Museum in New York, and they had a whole floor dedicated to Jasper Johns's work. You'd probably recognize his famous Bullseye or American Flag if you saw them. But, what stood out to me were all the iterations he did of each of his works. His depth and dedication to his craft continue to inspire me as a creator — also the work of Amy and Jennifer Hood, aka Hoodzpah. Amy and Jennifer are sisters who started a design agency in Los Angeles — they're doing incredible work. I heard them speak at Brand New Conference in 2019 and loved their presentation and overall style. They are outstanding entrepreneurs. They even wrote a book about design freelancing best practices which I would encourage anyone, artist or otherwise, to check out.
E: Fantastic! It's always important to think about the artists and work that has helped shape us. What are some recent trends you've seen in graphic design?
Noah: It was around five years ago, or a little earlier, when many large brands started shifting towards the modern, geometric sans serif look —think Google, Intel, Uber, Lenovo, Taco Bell, Re/Max, etc. I don't see that style going anywhere, but the market is becoming more saturated with logos and brand identities in that visual style.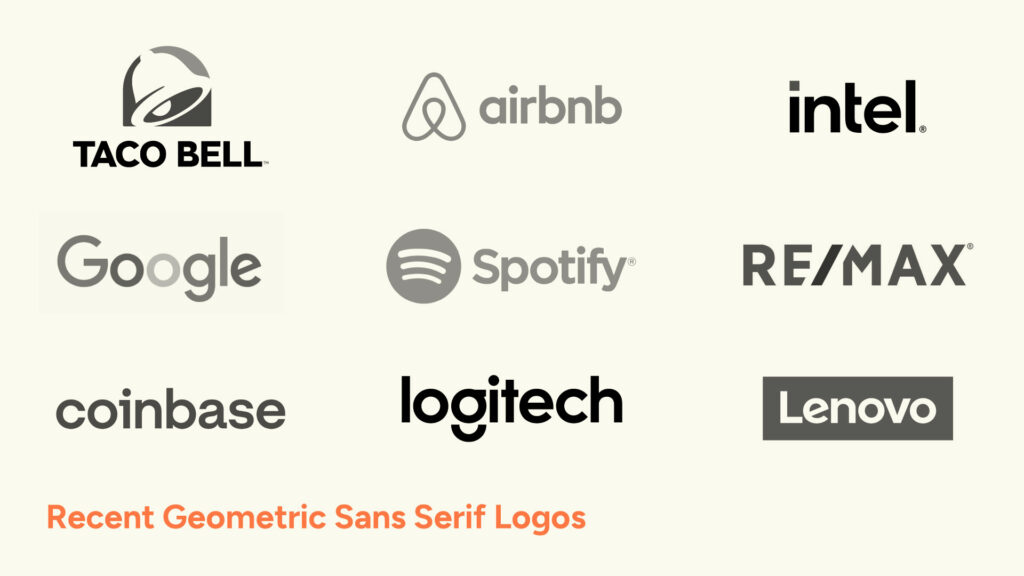 E: It's always a constant struggle in this industry to find ways to differentiate yourself, and now more than ever, we live in a very visual world. What brand work excites you right now?
Noah: I'm excited about the recent trend of embracing styles and motifs from past decades. A lot of modern brands are drawing inspiration from designs from the 70s — warm colors, curvy serif type, and unique, hand-drawn illustrations: Brands like Mailchimp, Burger King, Reebok, and Chobani. Design and fashion have always been interlinked — as the fashion industry embraces styles from the 70s and 90s, it directly impacts the design world. On a more technical note, I've also seen a rise in proprietary typefaces explicitly created for brands. Many brands are now incorporating custom font creation into their design systems. Airbnb, Spotify, Visa, Tripadvisor, and Cadillac — these are all companies with bespoke fonts.
E: What would the benefit of a custom-made font be? That seems like such an unnecessary and potentially expensive undertaking.
Noah: Well, for starters, it's cool. It's the ultimate designer flex — aside from having your logo on the side of an airplane, of course. And actually, it cuts costs. Global brands pay thousands of dollars in licensing when they use typefaces across prominent print mediums and highly-trafficked websites. Custom, proprietary fonts may have a steep up-front cost, but in the long-term, you see huge savings.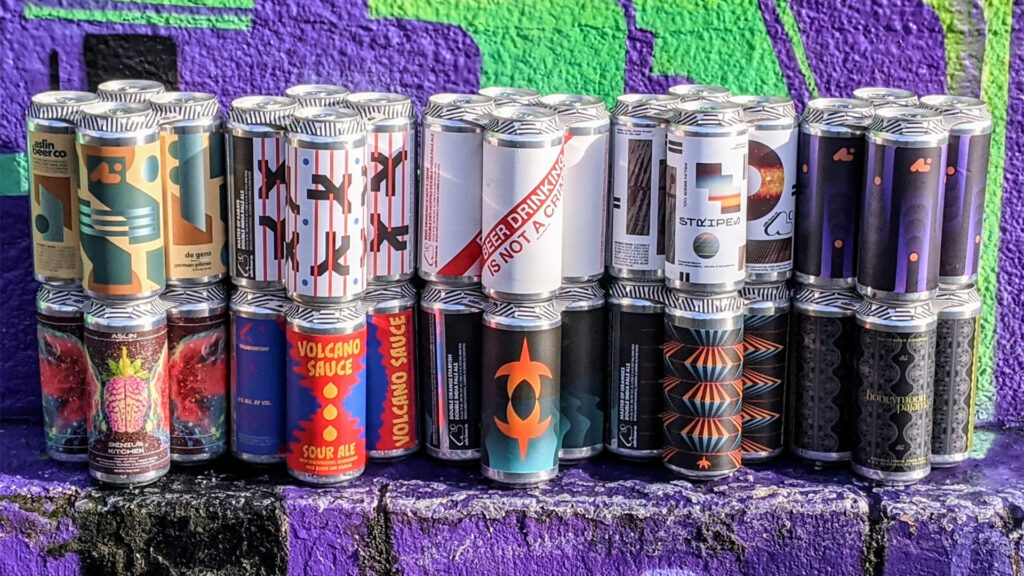 E: I had no idea — I love that. So, it seems so obvious to ask a designer to talk about their favorite designers, but what about inspiration from unusual or unexpected sources? Do you have any out-of-the-box places that spark your creativity?
Noah: I love the grocery store. Yes, I love food, but what gets me excited is all of the packagings. So many brands, labels, and typefaces all in one place — it's overwhelming (in a good way). I love looking at the rows of different designs in the beer section — in many ways a beer can serves as a modern-day canvas for artists and designers if you think about it. A beer can, or any can for that matter, presents an opportunity to create something unique, memorable, and eye-catching. If you live near DC, you'll know about Aslin, a local brewery that started in Virginia. I love their label designs — simple yet bold graphic patterns make their product instantly recognizable.
E: Yeah, it all ties in to making a brand unique and stand out among a crowd. I love food also — perhaps too much. What an interesting point of view — grocery shopping may never be the same for me.
You've always been a leader, so this recent promotion (congratulations btw) was a natural and obvious move for you and the agency. How do you encourage and guide your team to succeed and develop together and as individuals?
Noah: I like to make sure that my team and I check in frequently throughout the week and keep channels of communication open — constant communication helps us solve challenges we come across on our projects. We have a weekly team meeting, where we have time to share what we've been working on or something that inspires us.
As peers, we share inspiration and gain insight into each other's work. It's all about collaboration and providing one another with honest, constructive feedback to deliver the best results. You cannot work in a vacuum — we all add valuable perspectives. We also share learnings, tips, or tricks we've discovered that week. Any technique or tool that will improve our productivity or creative output is always welcome and valued.
Another thing I find extremely important is goal setting. I work with my team to set strategic goals for themselves and our group. It may sound like a lot of HR jargon, but I find goal setting highly beneficial. Having a clear objective to work toward helps us maintain our course, and frequent check-ins keep us accountable for those goals.
Making time to connect and share ideas is such an essential part of team building. In fact, we're about to have a team retreat in October — it'll be a time for us all to get together in person and workshop ways for our team to work more cohesively together.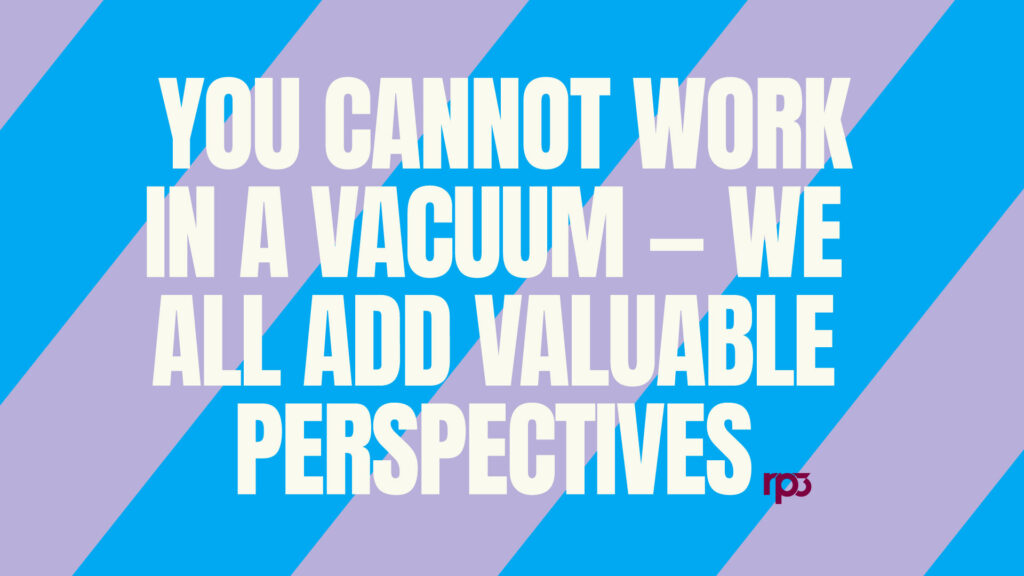 E: I couldn't agree more, and it sounds like you've built something truly special with your team. As a parting question, I have to ask — what advice would you give to a new graphic artist who wants to make a career in graphic design?
Noah: I'm sure there's a lot I could list here, but one piece of advice stands out — Always be a student. Always be willing to learn and try new things. Design changes and evolves constantly. New trends, techniques, and ideas are constantly surfacing all around us. You'll go a long way if you have a student's attitude. I could work for 100 years, but there would still be new things to learn and master in the design space. I always aim to have a few irons in the fire. Right now, I'm trying to learn more about 3D design and animation.
E: Well said, and wow! Please keep us posted on that. Thank you so much for taking time out of making the world more beautiful, in every sense of the word, to chat with me. I've learned a lot, and I feel lucky to be counted here among you and your exceptional team.
4 strategies that can improve brand relationships and increase ROI
By Maja Husar
Please see the full article in AdAge | Aug 10, 2022
When it comes to gender equality in media and advertising, great strides have been made over the last several years. Thanks to effective initiatives from organizations including the Association of National Advertisers and Geena Davis Institute, women are better represented in advertising and portrayed in increasingly non-traditional ways.
But this is just the beginning of the journey and a lot remains to be done—including in the authenticity of gender representation. According to the ANA's SeeHer and Getty Images, 56% of women say they don't see themselves reflected in women they see in the media. That percentage is even higher for women over 50 (79%), according to YouGov.
One of the most widespread problems is stereotyping—which limits truly original thinking and work.
Stereotypes can help us make sense of the world when we are overwhelmed by the flood of information we have to process. They are useful and often necessary. But they also create unconscious prejudices we carry from a very young age. It's easy to see how they can negatively affect behavior and judgment.
To address this imbalance, the ad industry has spent a good deal of time abandoning old stereotypes, but might have inadvertently created a troublesome set of new ones.
Many ads depict strong, resilient, bad-ass women who excel at sports, lead businesses, make discoveries as scientists or create wonders as engineers. Do those ads represent reality or jump from one end of the femininity spectrum to the other—as if trying to compensate for years of misrepresentation? How authentic and how common are these new portraits? Where are our mothers, sisters and neighbors—caring, soft and sensitive but not indecisive and weak?
Another element to consider is that the traditional binary view of gender is increasingly challenged. Today nearly 4 in 10 Americans believe that there are more than two genders, according to PewResearch. With that, traditional/outdated gender representation in media and ads is even more harmful.  

It's been well documented that, when ads authentically portray women, there is an increased likelihood of a positive impact on long-term brand relationships as well as short-term behavior. SeeHer's study revealed that ads and programming that realistically portray women and girls have on average a 30% higher ROI. A 2021 Ipsos study, "Women in Advertising" concluded that "Brands have the power to drive change in our society, and we see in the data that doing good for society is also linked to doing good for brand growth."
How do we break free from stereotypes and think in new, original ways? How do we authentically portray women, men and anyone else on the gender spectrum?
The good news is that unconscious bias is something that can be overcome—by acknowledging it, making a conscious to avoid it and challenging the way we think about gender. Here are a few steps we can take to decrease stereotypical thinking:
Show up to work as a human first, then a marketer. Is the culture of your organization or team a safe space that allows people to bring their authentic, often messy self to work? Fear and judgment limit our creative thinking.
Pay attention to the creative teams' makeup. Are there women on the team? People of color? People of various generations and diverse cultural backgrounds?
Train yourself and your teams to recognize the bias. There are consultants that help others learn how to spot our biases and shift mindsets.
Explore the tools that organizations have put together to help the industry get it right. They include SeeHer's Inclusive Storytelling Guide, Spellcheck for Bias from the Geena Davis Institute and USC and the Diversity, Equity, & Inclusion Imagery Toolkit from Citi and Getty Images.
Decisions we make when creating ads affect not only our clients and their businesses but society at large. Ads quickly become part of the culture and with that comes responsibility. Advertising has the power to change how people think about gender roles and, at the same time, help shape the way we view one another. Geena Davis's famous quote, "If you can see her, you can be her" is not limited only to women.
By Les Luchter at MediaPost
Please see the full article in MediaPost | Jul 12, 2022
Providing an example of how a retailer can use out-of-home to zero in on specific consumers, regional alcohol chain ABC Fine Wine and Spirits is targeting people from Alabama and Georgia who drive to the Florida Panhandle for week-long summer vacations.
"Summer is an especially important time to add marketing support for our three Panhandle store locations [Pensacola, Destin, and Panama City Beach] because of the surge of vacationers heading to the area's great beaches," Sean Kelly, ABC's chief operations and marketing officer, told Marketing Daily. "With our increased competition, this campaign gives us an opportunity to stand out."
Beth Johnson, founder of Washington, DC-based independent agency RP3, which handles ABC's creative and media, stated that the billboards "remind vacationers that ABC's outlets are located close to the beach, and they have everything they need to celebrate and enjoy the summer."

Vacationers being targeted are generally young families or groups of friends, RP3 said.
They'll see different billboards pairing ABC with different alcohol brands (which were uninvolved with the campaign's funding):
"For beach traffic, we have an express lane. Order online for pickup" reads the board for Tito's Vodka.
High Noon Vodka and Soda, meanwhile, is "The summer fling you can count on."
Maker's Mark bourbon becomes "The official sponsor of vacation mode."
And the board for Veuve Clicquot Champagne compares Gulf Coast vacations to French ones: "Different Riviera, same bubbles."
The campaign will run through Labor Day on 10 highway billboards, bought by RP3 through Media Can Do, which include a couple of digital boards and one trivision.
How large is the target audience? Destin alone gets up to 25,000 tourists at peak season, according to the NWF [North West Florida] Daily News, while Panama City Beach estimates some 85,000 daily visitors.
Article published in AdAge | Jul 11, 2022
At both the macro and micro levels, the situation seems dire, the numbers staggering: The Great Resignation claims to have accounted for 4.4 million Americans voluntarily changing jobs in April alone. We can feel the tightness of the labor market and the war for talent with each and every position we (try to) fill. And there are too many stories of candidates ghosting potential employers or calling back within hours of an offer only to counter with demands for new titles and increased salary expectations.
Even if a new position is filled, there is no guarantee that it will remain filled. Mobility in the workforce in many ways has never been higher, and not only because of the impact of remote working.
Traditionally, recruitment efforts have been the province of HR departments working with a standard set of tools that, unfortunately, often include overwrought job descriptions and laborious application processes. How has this approach fared so far? Reconsidering the Great Resignation figures seems to indicate that there is less than a great match between employee and employer.

A Progressive Recruitment Plan
To deal more effectively with the problems posed by the Great Resignation, it's time for marketers and their agencies to adopt the same strategies and tactics they employ to attract and retain customers for their products and services, namely good old-fashioned marketing.
Progressive HR executives are beginning to realize that their CMO, or marketing department, is often their best friend. Attracting, retaining, and growing talent are every bit as important as attracting, retaining, and growing customers. Why not use a similar approach?
There are many fascinating and instructive examples of how techniques traditionally associated with external marketing can be used to attract talent.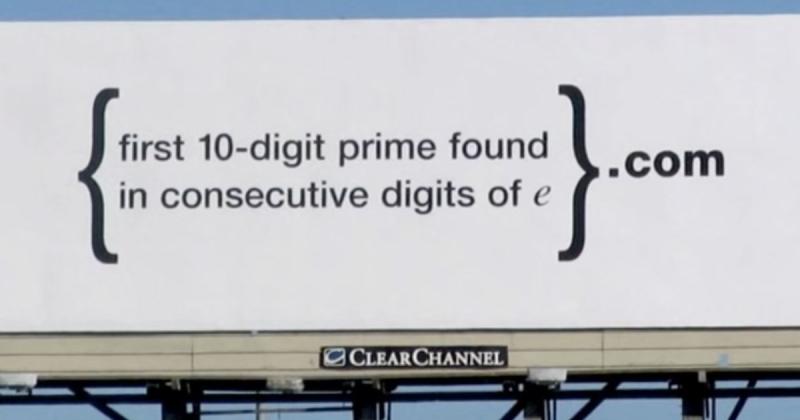 A Google billboard, placed in Silicon Valley, presented a complex mathematical equation to passersby and challenged those who thought they were smart enough to solve it. Once solved, the equation revealed a website URL that the solver must visit. Those smart enough to solve the billboard puzzle were given one final puzzle once on the website. Successful candidates received the message: "Nice work. Well done. Mazel tov. You've made it to Google Labs, and we're glad you're here. One thing we learned while building Google is that it's easier to find what you're looking for if it comes looking for you. What we're looking for are the best engineers in the world. And here you are."
IKEA decided to target those who they knew already loved IKEA by putting 'career instructions' inside the box of IKEA products for customers to discover upon opening their item, labeled "how to assemble your future." Thousands of customers applied, and IKEA hired 280 employees who admired the IKEA brand. The reason for the success of the campaign was not just its creativity but also because it spoke to IKEA's existing brand ambassadors, their customers.
When Volkswagen had to hire talented mechanics, they decided on an obvious but unusual placement, the undercarriage of cars in need of repair. Volkswagen intentionally distributed faulty cars with the message hidden underneath to service centers across Germany in anticipation of attracting experienced employees.

According to research by SHRM, companies that incorporate recruitment marketing into their hiring strategy can generate three times more applicant leads than those who don't — leading to a 100% higher close rate on applicants. Additionally, research by Allegis Global Solutions found that running a recruitment marketing campaign can save companies up to 40% on total talent costs. On top of these savings, recruitment marketing boosts the employer brand and attracts an estimated 50% more qualified candidates.
Here are 5 tips to keep in mind before you start a recruiting campaign:
1. Ensure your understanding of your brand is as strong in regard to internal audiences as it is for external audiences (and no more blaming poor engagement scores on COVID).

2. Understand how your previous recruiting messages and strategies align with your brand positioning, promise, and values. How well aligned is your brand internally and externally?

3. Invite your brand and/or marketing team to the initial discussion with HR.

4. Plot the journey of a potential employee against that of a customer. Is one more arduous than the other? If so, find out why.

5. Challenge the marketing team to meet, if not exceed, the standard for customer-oriented campaigns in terms of engagement and establishing a brand- or category-first solution.
Remember that competition for talent rivals competition for customers in today's economy. This will become especially true if, as expected, we're headed into a recession and the grand game of musical chairs comes to a halt. A senior executive at a previous job summed it up well when she said, "You can't build on just who is left over." A steady influx of new ideas and perspectives is critical. Now is the time for companies to focus their best marketing minds on ways to attract and retain employees. After all, those employees will help fulfill a company's mission and vision.
By Capitol Communicator
Please see the full article in Capitol Communicator | Jun 7, 2022
Independent, full-service marketing agency RP3 today named Ingrid Vax, a veteran of the D.C.-area advertising scene, as its new Head of Business Development.
Vax joins RP3 from Bullhorn Creative, a Washington, D.C.-based branding agency, where she served as Director of Client Partnerships since November 2021. At Bullhorn, Vax developed new business pitches and presentations, among other duties, and directly impacted $700K in new account wins.
Vax is known as a growth-minded, results-oriented marketing and business development executive with 30-plus years of cross-industry experience and success. Her appointment is effective immediately; she reports to RP3 Founder-CEO Beth Johnson.
Johnson said Vax will not only oversee the agency's new business efforts, but also will serve as RP3's strategic lead for agency marketing. In addition, she will be responsible for driving growth, cultivating talent, facilitating inter-office collaboration, and nurturing client relationships.
"Ingrid's wide-ranging agency and marketing experience makes her the ideal candidate for this incredibly important role at our agency," Johnson said in making the announcement. "I'm quite confident that her valuable contributions to RP3 will help us achieve the ambitious goals we have set for ourselves for the coming months and beyond." Johnson added that Vax replaces Alix Bortnick, who left RP3 to pursue another opportunity.
Earlier in her career, Vax worked as Vice President of Business Development at WHITE64, a full-service marketing services agency based in Tysons, Virginia. At WHITE64, Vax led the agency's business development efforts while leveraging professional relationships, experience, and data to identify new client prospects and growth opportunities. She also oversaw inbound marketing activities and agency public relations while crafting RFP responses and pitch presentations.
Previously, Vax held a range of leadership and business development roles at companies including, Yes&, Spurrier Group, Qorvis, Sallie Mae, and Volvo.
"I'm incredibly excited to be joining such a vibrant and successful agency as RP3," said Vax. "I'm looking forward to being part of a great team of talented professionals and working with them to identify new opportunities and fully realize this agency's incredible potential for long-term growth."
Vax earned a master's certificate in Digital Marketing from the University of San Francisco and a bachelor's degree in Marketing Communications from Mary Baldwin University in Staunton, VA, where she graduated summa cum laude.
You can also read the original article on MediaPost.
Whether it's picture-in-picture, squeeze back, pre-roll, social api feeds, or native ads (the list goes on), advertisers and media companies are trying to find ways to satisfy marketing and revenue needs in this ever-changing-non-commercial-watching world. It's a challenge, to be sure, and sometimes the best laid plans go horribly wrong. That was certainly the case last week for CNN and Applebee's.
Applebee's paused advertising on CNN after the network ran picture-in-picture Applebee's ads during its coverage of the Russia-Ukraine crisis. CNN was harshly criticized on social media "when it went from broadcasting air raid sirens in Ukraine to showing an upbeat picture-in-picture ad for the casual restaurant chain. At one point, the words "RUSSIA INVADES UKRAINE" from CNN's coverage appeared next to a man in the ad dancing.
How could this happen? And what can brands do to make sure it doesn't happen again when networks like CNN and others cover major breaking news stories?
I can't assume exactly what went wrong—there are too many variables to take into consideration and it would be wrong to assign blame. However, I would guess that ongoing automation, speed to market, and shrinking teams on all sides were factors. Those are not excuses. Should CNN's marketing team have sat down to discuss how to manage their advertising products in light of the horrible situation/invasion on Ukraine? Of course. And should Applebee's marketing team hold CNN accountable? Absolutely!
However, relationships are also at play here. Keep in mind that marketers' ad campaigns being associated with negative news is not new. Most often when this happens, the client or agency contacts the media outlet with an order to pause a campaign. Sometimes the media outlet acts proactively and takes it down itself. I've actually been in this very situation with CNN, and they were proactive, taking our client's ad off the air. This happened because I worked closely with my sales reps and we had a strong relationship. They understood our client's business.
The truth is that in the high-tech, digitally powered advertising marketplace we all live in, mistakes are going to happen. Innovation has a price, and the question we all need to answer is how do we keep up and maintain a safe media environment for our clients' messaging, whether it's delivered in linear or non-linear formats?
Agencies and advertisers cannot afford to be lulled into thinking that everything's under control while high stakes innovation is taking place. While we're all getting increasingly more comfortable with machine learning, programmatic buying, and overall automation, the CNN Applebee's situation is a reminder that we need to develop as many safeguards as possible up front.
Here are a few suggestions on how agencies can achieve that goal.
-- Monitor the news and social media sentiment daily with the lens of what campaigns they currently have in-market and form a general blacklist policy of what outlets you will consistently avoid.
-- Stipulate all requirements during the RFP process and then again on the IO. The news category has always been more difficult for obvious reasons, requiring ongoing monitoring. For this reason, conduct kick-off calls with media partners to reiterate written documents.
-- Have one-on-one discussions with your media partners. Bring them into your strategy early. Through this process, both teams will generate ideas and identify potential pitfalls that otherwise wouldn't have surfaced. Nuances that can't be communicated in a written RFP will surface during one-on-one meetings.
-- Develop a back-up plan that can implemented on short notice.
-- Be agile without sacrificing strategic thinking.
-- Remember that as much as we want traditional and digital media to function in the same world, the fact remains that their day-to-day systems are different. Plan accordingly.
The programmatic approach, machine learning, staff shortages and more have left sellers and buyers struggling to think and act proactively in order to fend off potential mishaps like the Applebee's/CNN contretemps. New technologies have created a false sense of security and there haven't been enough use cases to think about what this new world communication should look like.
I guarantee CNN is putting best practices in place, now. And yes, the situation requires close scrutiny and constructive criticism. But at the same time always remember that when innovation is in play, mistakes will be made.
Lewis Williams' impact and influence on advertising goes well beyond his decades of award-winning work. In addition to his leadership, he has mentored and helped shape some of the most influential voices in our industry today.
Recognized as one of Adweek's 2018 Creative 100, Lewis spent the majority of his career between two iconic agencies; first as SVP, Creative Director at Leo Burnett, and then as EVP, Chief Creative Officer at Burrell Communications. He has also served on jury panels at The One Show, Cannes Lions, and The Clio Awards, just to name a few. Two months into starting his new role at Weber Shandwick as Head of Brand Impact, we were honored to catch up with him as part of our Invisible Shoulders series.
---
If you've ever had the opportunity to meet Lewis or hear him speak, you'll know the presence and wisdom he brings to a conversation. It's no different looking throughout his portfolio. From household brand names to small nonprofits, Lewis has always found a way to turn simple, human truths into powerful ideas that provoke us to think, act, and oftentimes do both.
For him, it's about looking beyond the brief.
As creatives, we tend to get excited about the big briefs and the contagious energy surrounding them. It's always seen as an opportunity. But Lewis reminded us that oftentimes it's the overlooked, unexpected, and often unassigned briefs that can present the biggest opportunities. He looks to the passion it's pursued with, "If you care enough about something, chances are someone else is going to care about it, too. And when it comes from a place of wanting to make a difference, sooner or later that idea is going to find a home."
That's exactly what happened with his Black is Human campaign at Burrell Communications. In the wake of Trayvon Martin's killing in 2014, a young copywriter came to Lewis with an idea bigger than any brief.
"To inspire change, we knew we needed to move beyond assigning blame to creating stories that provoked empathy – and outrage – among both Black and non-Black viewers." So, Lewis and his team took a small camera crew to a local elementary school in Chicago, interviewing young Black boys about their own aspirations for the future. "Our goal was to show those caught in the crossfire, not as victims but as lovable kids with hopes and dreams; to help America see them as someone's son, not just a statistic."
In one of the spots, a young boy opens up about his fear of getting shot while coming home from school. Soon after the spot aired, this fear became a reality. He survived the shooting, while placing national attention on the campaign.
Williams recalled the moment he got a call from ABC News wanting to air the spot, "Now you've got a national spotlight, and we're talking about how Black boys are judged harsher. How Black boys are more at risk with gun violence. And now it becomes a much larger conversation about the treatment of young Black men." Lewis' team had the perspective to see the problem in a way that much of America couldn't, helping to unravel a truth that millions needed to hear.
In talking about the importance of perspective and what diverse minds can do for advertising, he pointed out "Being a Black creative is interesting, but then again, being Black is interesting. What you go through as a Black creative doesn't just happen when you walk inside an ad agency, it happens when you walk through life, each and every day no matter what you do." He continued, "Think about it, we're all different no matter who we are. We quickly shift to the matters of race, gender, identity, and more – which is important – but at the same time, we're all unique individuals in our own right."
I think we can all agree that diversity fuels creativity, and our conversation with Lewis was a reminder to continue pushing the boundaries of our comfort zone. As he said, "It's ok to have a difference of opinion or come from different places. Diversity opens you up to a different way of thinking, allowing us to see things from both sides. That's how we grow."
Please see the full article in Adweek.
Getting a Super Bowl brief is one of those opportunities you dream about as a creative. Nailing it can change the trajectory of your career. Then, about five minutes after getting briefed, reality sets in. Your palms start to sweat. Your brain draws a blank. And the faster you realize what's riding on it, the faster you realize screwing up isn't an option.
The second Super Bowl brief I got was for Kia in the fall of 2011 as a freelancer. David Angelo handed us the brief and said, "It needs to have a car driving, great music and must be entertaining." He challenged us not to overthink it and find the simple truth to bring those elements to life. There's no perfect formula for memorable storytelling, but the simplicity of his brief stuck with me as the place you always hope to start.
So, before we all start playing Monday morning quarterback on last night's spots, let's take a quick step back and give a nod to the work it took to even get there. Every agency team started in different places, went up against different obstacles and ultimately brought it to the finish line.
There was a lot of talk going into Sunday as the year of the Crypto Super Bowl. What stood out for me—above crypto, celebrities, electric vehicles or nostalgia—was that humor made a comeback. And after everything that's happened over the last couple of years, it seemed to be welcomed by all. Here's what I loved and two things I thought missed the mark.
FTX
Arguably one of the funniest spots this Super Bowl. Larry David made the perfect argument for why you should look at the way forward with an open mind.
Pringles
This started with a great product truth and unpacked a pretty bold TV spot, getting better and better with each vignette. From the love scene to the casket, this one left me smiling.
Google
What's not to love here. With a product like this, they let the story tell itself. Well done.
Amazon Alexa
The casting choice played out perfectly onscreen, and kudos to Amazon for leaning into what people fear about their product. I thought it was smart and tastefully comedic.
Coinbase
Even for those who don't remember the floating DVD screen saver, it didn't matter. This pulled enough people off their couches to crash the site. Simple, effective and right on point for a technology nobody understands.
UberEats
What more can you say, Gwyneth Paltrow eating her own candle pretty much stole the Super Bowl. Kudos to the team and client for the bravery.
GM's "New Generation," NFL's "Bring Down the House," Lay's' "Stay Golden," Toyota's "Brothers," Rocket Mortgage's "Dream House" and GM's "Dr. EV-il" rounded out my list of almost-loved. Next, when I wished I was in the bathroom:
T-Mobile
We've gone to the well on this device a few too many times, and Dolly Parton wasn't enough to reinvent the approach.
E*Trade
I was eagerly awaiting the reboot of a Super Bowl icon but ended up feeling like we were dropped in the middle of a story without explanation. If you missed the teaser you were probably scratching your head. I feel a new campaign is coming, I just wished this spot was as good as its predecessors.
Overall, we saw a lot of goodness in this year's Super Bowl. Keeping it smart, simple and entertaining seemed to prevail—which we all know is a lot easier said than done. For that, I say thank you to the lucky ones who got their brief and helped bring some fun back to the Super Bowl. We needed it.